The greatest threat facing the United States today doesn't come from China, Iran, or even Russia; it's the growing number of Americans who believe Karl Marx's socialism provides the best strategy for making our communities safer, healthier, and more prosperous. But the most significant danger posed by socialism isn't that its implementation would lead to greater poverty and fewer property rights, it's that socialism would create numerous moral problems, including the limits it would place on individual liberty and religious freedom.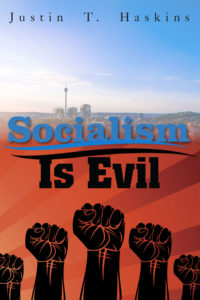 In Socialism Is Evil: The Moral Case Against Marx's Radical Dream, conservative columnist and think tank research fellow Justin Haskins examines the moral perils of Marx's socialism and explains why if socialism were to be imposed in its fullest form, it wouldn't just damage people's freedoms, it would obliterate them. Haskins argues it would be dangerous to attempt to create Marx's utopian socialist world, and even more importantly, that such an attempt would be so highly immoral that it could reasonably be called "evil."
In Socialism Is Evil, Haskins makes the moral case against socialism and also describes in detail what socialists believe, the differences between socialism and communism, why Marx's socialism will never be completely adopted, and why even the more moderate European-style socialism, called "democratic socialism" by some, is highly immoral and anti-American.
Many socialists are kind, generous people with good intentions, but sometimes, good intentions can create devastating results. Socialism Is Evil briefly tackles some of the most important moral controversies surrounding Marx's socialism, providing supporters of individual liberty with the tools they need to stop the rise of socialism in its tracks.
Justin Haskins is a New York Times bestselling author and political commentator, the president and founder of The Henry Dearborn Liberty Network, and the director of the Socialism Research Center at The Heartland Institute, a national free-market think tank. (His work here does not necessarily reflect the views of The Heartland Institute.) Follow him on Twitter @JustinTHaskins.